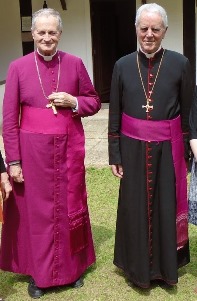 https://seminaireavrille.org/
Dear friends and benefactors,
At the meeting of the Priestly Union Marcel Lefebvre [USML] in February 2016, Bishop Williamson invited us to a more precise structure. By this structure, Bishop Williamson wanted to reassure colleagues that could leave the SSPX by the end of 2016. At the time, the organization of a structure seemed a bit premature. However, in the months that followed, its need became clearly felt to reassure teachers and seminarians who wish to be there incardinated.
The decision was made with the consent of Bishop Williamson and Bishop Miguel Ferreira da Costa (Dom Thomas Aquinas). At this announcement, Dom Thomas Aquinas and the monks sang a Te Deum in the chapel of the Holy Cross Monastery to celebrate the event. (I had already anticipated this possibility with Dom Thomas in the early 2000s).
The decree of erection of the Priestly Society of the Apostles of Jesus and Mary was signed at the Seminary on the day of the resumption of French courses for foreign seminarians (courses given in part by their French colleagues) on August 22, 2016, after the Mass of the Immaculate Heart of the feast of Mary, to whom we immediately dedicated the new company.
It is because we have desired to stay in the same fight of the Faith as Archbishop Lefebvre, without deviating to the right or left, that we chose this name, the same as that chosen by our founder; this bishop was sparked by our Lord Jesus Christ, head of the Mystical Body and head of the church, to guide us in the midst of the Church's eclipse, in the "terrible crisis" announced by Our Lady of La Salette in 1846; it seems our time matches the "great falling away" predicted by N.S.J.C. and Saint Paul: "… the number will move away from sound doctrine [i.e. Faith and Morals] to follow the pleasant fables in their ears [the so-called human rights; the right to freedom of religion opposed to the Social Kingship of Our Lord Jesus Christ, well translated by the formula of Pope Francis … "for me, a Catholic God does not exist! … "]. Now it is to Archbishop Lefebvre that Pope Paul VI made the accusation during a personal interview, to be considered by the faithful of the Tradition as "Athanasius of the 20th century." Was it not rather an unintended compliment?
We start the school year auspiciously, with 12 seminarians; some have sought refuge in individual rental bungalows set in the garden, waiting for our facility at a new property yet to acquire. The return retreat was preached by Father Bruno. We count on your prayers for the sanctification and perseverance of seminarians and thank you in advance for your generosity in coming to meet the material needs of the seminary. For our part, we assure you of our gratitude and our daily prayer for all your intentions.
+Bishop Jean Michel Faure